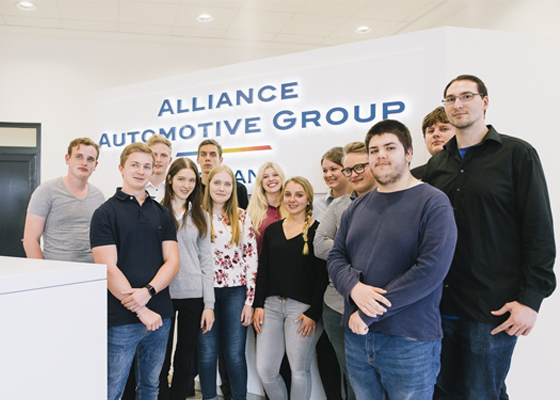 Why Work for AAG?
With over 14,000 employees across Europe, we have a variety of roles that cover a vast number of functions. We invest in a wide range of benefits, including staff discounts, pension plans, and childcare vouchers to ensure that our employees feel well looked after and appreciated. We offer our employees extensive training options and always look at internal promotion opportunities.
Careers at AAG France
Alliance Automotive France is a progressive and fast-paced business that offers diverse job opportunities to its employees. With a focus on developing their employees, AAG France support them to make the most of their skills. Visit our careers site to view our current vacancies.
Careers at AAG Germany
A career at Alliance Automotive Germany GmbH could offer you a compelling international career opportunity. As an organisation that appreciates the commitment of each individual, we can also provide exciting development opportunities. Visit AAG Germany's career portal to view our current vacancies.
Careers at AAG UK & Ireland
The automotive aftermarket is a unique, multi-faceted and fast-paced industry and we strive to ensure that Alliance Automotive Group is a dynamic, forward-thinking organisation for our employees. As a rapidly growing company, we strongly encourage promotion from within, enabling fast career development to leadership roles.
Careers at AAG Benelux
An exciting and fast-paced business, Alliance Automotive Group Benelux is located in Ede, the Netherlands. Its main activities are importing, distributing and selling automotive parts and accessories for professional users via its subsidiaries Alliance Automotive Trading, Brezan, Dabeko and Staadegaard TC, among others.
AAG Benelux has become a national leader in parts distribution throughout the automotive aftermarket in the Benelux, growing year on year. As such it is a fantastic place to progress your career.