AAG in the United Kingdom and Republic of Ireland
Alliance Automotive Group UK is a leading distributor of light and commercial vehicle parts to the automotive aftermarket, serving over 30,000 repairers across the UK & Ireland. AAG UK comprises two distributors networks (GROUPAUTO UK and the United Aftermarket Network) that benefit from an efficient logistics and product offering from its wholly-owned subsidiaries FPS, Apec, Platinum and BTN Turbo. Consolidated revenues are around €650m, with over 3,000 employees working for the group across 800+ distributor outlets.
The combination of these businesses gives our associated members and garages market-leading commercial terms on exclusive private label brands as well as original equipment (OE) or OE-matched quality suppliers. Our affiliated and wholly-owned distributors have access to business services such as fleet deals, branding, utility services, and marketing support.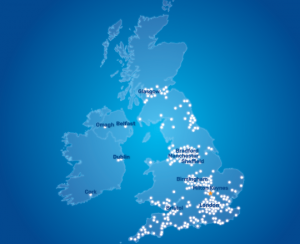 AAG Companies in the United Kingdom and Republic of Ireland