Sustainability improves the quality of our lives, protects our ecosystems, and preserves natural resources for future generations. It is important as a global business, that AAG support this future for everyone as the consequences of climate change have become more apparent over the years, from rising temperatures to extreme natural disasters.
In December 2015, world leaders at the UN Climate Change Conference (COP21) in Paris reached a breakthrough to tackle climate change and its negative impacts by announcing the historic Paris Agreement with a clear and simple goal:
EMISSIONS NEED TO BE CUT BY ROUGHLY 50% BY 2030 TO STAY BELOW 1.5 °C OF GLOBAL WARMING.
In the first half of 2022, all data to calculate AAG's carbon footprint was collected. The graph below shows the sources of the footprint and the total footprint of AAG Europe in 2021.
Gas/oil: To heat the buildings
Fuel: Used by owned, leased company cars, delivery Vans/Trucks
Electricity: For buildings, mainly lighting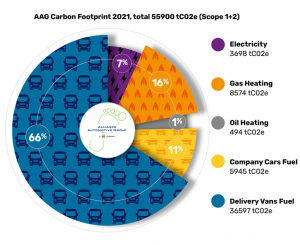 Emission Goals 2030 & Initiatives to reduce
Based on our current footprint, AAG wants to have a clear goal to reduce this by 2030. As a starting point, a top-down proposal was made with initiatives for every country. The potential reductions measures are:
What is AAG already doing?
A lot of initiatives are already in place with the aim to reduce the effect of our carbon footprint across the AAG countries.
A handful of these actions are:
Installing LED, sustainable heating. All new sites will be installed with LED and EV chargers.
Pilot with Last Mile (from AAG store to garage) delivery by Electric Carver
Last Mile reductions by reallocating customers and route optimisation
Making use of windmill power or other green energy
Reducing waste to landfill and increase recycling
Initiatives on biodiversity at national DC's such as Beehives, Bird and Bat houses
E-learning on eco-driving and energy use in facilities
European tender for EV chargers: EV chargers for own facilities, Next Drive or sold as commodity
Back2Car concept – refurbish and sell used car parts
GPC
Being part of GPC, we are closely aligned with the Sustainability team in the US. All European calculations on energy usage and CO2 footprint are also reported in the GPC Sustainability report. If you are interested, the report is published on the GPC website https://www.genpt.com/.